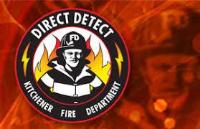 Direct Detect
Direct Detect
Direct Detect is a monitoring system that detects fire, smoke and carbon monoxide, and is connected directly to your local fire department.And it's the only system that will respond immediately when there is a threat, contacting Kitchener Fire and ensuring an emergency response team is dispatched to your home or business. 
Direct Detect provides a quicker response and reduces the chance of injury or property damage in an emergency, even when you're not there!
Whether or not you are present in your home or business, Direct Detect will dispatch the fire department as soon as smoke, fire or carbon monoxide is detected - providing extra home security for your family and your valuables.
In addition to a stronger sense of safety, homes protected by Direct Detect can save 5-15 per cent on their home insurance.
Direct Detect is available to you if you live in, or operate a business, in Kitchener, Waterloo, Wilmot, Woolwich or Wellesley Townships. Affordable monthly rates are available. Direct Detect monitoring system can be rented or purchased for home or work. Learn more about out residential, or business services.
Click Here to learn more about Direct Detect.